Join us for Meet and Greet at Chuck and Dons in Eagan on Saturday, March 30th from 12 noon to 2pm! Find out what it takes to foster or adopt from UDR, and meet a Doberman or two.
Blondie
Blondie is a 2 year old spayed female Dober-girl. House and crate trained, loves to walk. Very alert, smart and an all around great mannered girl who will make a wonderful companion.
Blondie
Please donate unwanted shoes at the Chuck and Dons during this event to help our Dobermans!!!!
We are collecting shoes now through the end of May to benefit not only our homeless animals, but to help homeless people in third world countries. We can
give
a receipt for all donations given!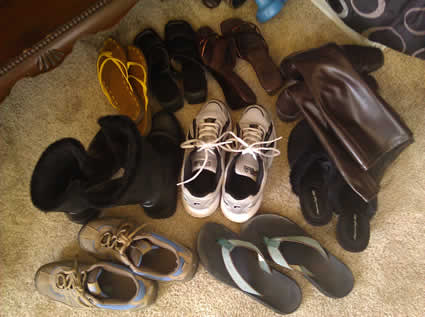 All types of shoes needed!
Imagine life with out shoes........... make a difference and donate!

Besides helping homeless animals, here are a few reasons to donate shoes for humans!
According to the World Health Organization (WHO),approximately 1.2 billion people in the world live in extreme poverty that's less than one dollar per day. Due to these inconceivable conditions, unfortunate families spend their entire day walking barefoot in landfills just trying to survive.

Everyone must walk wherever they go. Therefore, it is critical that the majority of the world's poor obtain the proper footwear. A good pair of shoes would provide aid to these individuals in an already difficult situation. Any kind of footwear would protect those unfortunate against soil parasites, cuts, abrasions and infection. Wearing shoes can help prevent diseases and long-term physical complications and cognitive harm. Footwear will allow deprived families to walk the extra mile where they can obtain food, water, shelter or medical help and help them sustain a living to provide for their families!
There are many hazards associated with going barefoot in contaminated sand, soil, and dirty water. In many developing countries where stagnant water is a problem, these diseases are almost a condition of life. Children sometimes swim in parasite-infested waters, and in the absence of suitable drinking water, people may be forced to drink it and use it for cooking purposes. Amongst the poorest of the poor, parasitic infection is a vicious cycle. Once parasites enter the body, they often perforate the intestines, circulatory system, lungs, liver and other organs, and cause physical trauma. They can lump together in balls, and travel into and erode or block the brain, heart and lungs. On occasion, these lumps have been mistaken for cancerous tumors. Parasites also give off metabolic waste products that poison the body. Left untreated, the infections they cause can result in the loss of limbs, chronic illness and even death. Parasitic infections often prevent adults from being able to work and children from being able to a;end school. The relationships between illness,access to education, and poverty have been well-documented by organizations such as the United Nations Children's Fund (UNICEF), the World Health Organization (WHO), the United Nations Population Fund (UNPF) and the United Nations Development Program (UNDP).
All shoe types and sizes needed! Boots, sandals dress shoes, tennis, kids, adults!

Its a great day to clean out your closet and make a difference for humanity!